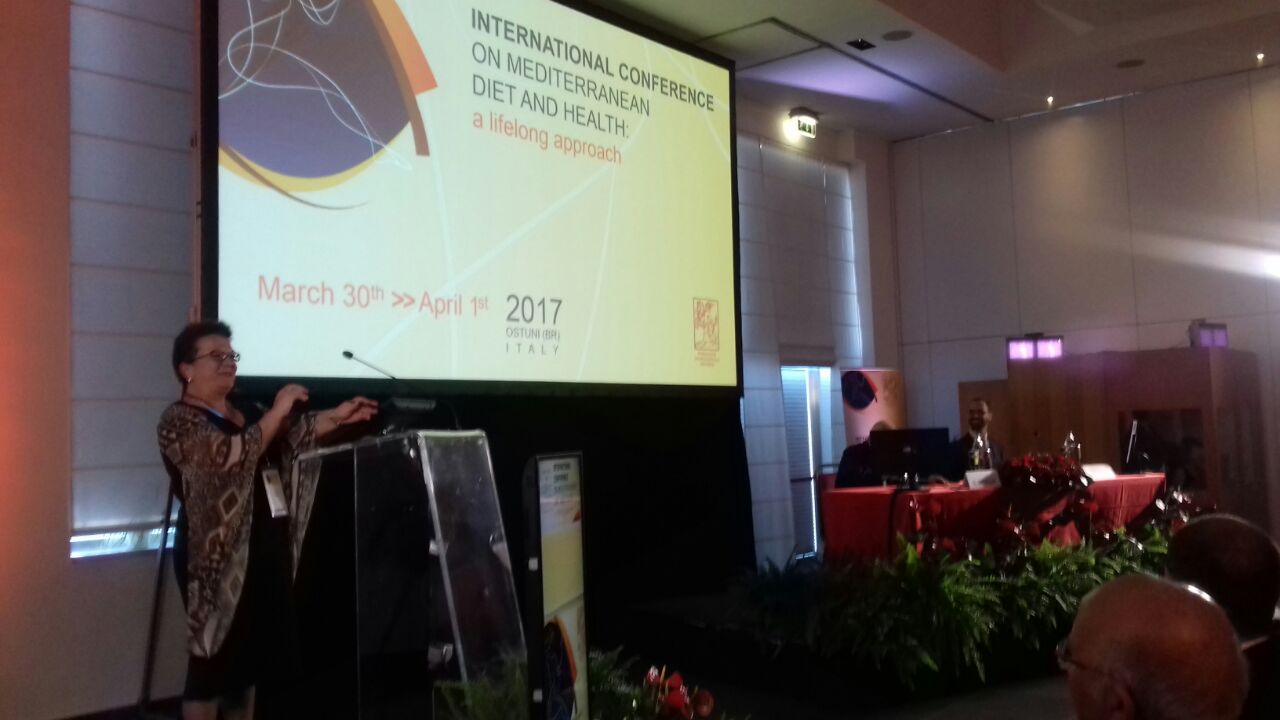 The "Mediterranean Diet and Health. A Lifelong Approach" International Conference, which was recently held in Ostuni (Italy), was one of the latest noteworthy efforts of the Mediterranean Diet Foundation. The conference, which was strongly supported by the Menarini International Foundation, was organized by the Aristea Event Management Agency
The scientific program was carefully prepared by a pool of internationally renowned experts including Prof. Richard Besdine, of Brown University (USA), Prof. Antonio Capurso, of the University of Bari, Prof. Mario Barbagallo, of the University of Palermo, Prof. Sieber Cornel, of the University of Erlangen-Nurberg (Germany), and Dr. Aurelia Santoro, of the University of Bologna. The working program was coordinated by the Director General of the Mediterranean Diet Foundation, Prof. Stefania Maggi of the National Research Council (CNR), under the supervision of Prof. Gaetano Crepaldi, President of the Mediterranean Diet Foundation, and Prof. Alessandro Casini, President of the Menarini International Foundation.
Professionals from the medical, nutrition, dietetic and nursing sectors and a large number of students from the "Epifanio Ferdinand" Scientific High School of Mesagne participated in the Conference, which was held at the Hotel Monte Sarago in Ostuni from March 30 to April 1, 2017,.
Prof. Gaetano Crepaldi and Prof. Stefania Maggi, who represented the Mediterranean Diet Foundation, and Dr. Giuseppe Caracciolo, International Scientific Director, Menarini Foundation, made presentations at the Opening Ceremony. Professor Luigi Ferrucci, Director of the National Institute for Aging (USA), went on to illustrate recent findings on energy and nutrition metabolism produced by his research in Baltimore. There was also a tasting session of Extra Virgin Olive Oils guided by Dr. Massimiliano Magli and Dr. Stefano Predieri of the CNR, Bologna.
The conference sessions were distinguished by the authoritative voice of the invited speakers and by the presentation of state-of the art and emerging research scenarios. The multifaceted approach that was taken towards the Mediterranean Diet highlighted its importance not only as a healthy lifestyle but also as a sustainable diet model that can be modified according to country-specific and culturally appropriate variations
The activities of the Mediterranean Diet Foundation will continue to focus on a more in-depth look at these aspects as they represent the future of scientific research on nutrition and health in the effort to improve the quality of life of all peoples of all ages and to ultimately contribute to a healthier old age.